The Saddleback Club is a one year membership that starts the day you join the club. It's our way of creating a community to all bond together, and a way we can spend more time getting to know you and interacting personally. It's about friendship and sharing common experiences, within and outside of Saddleback. During your membership we will send out a handful of free leather designs. You'll have access to a number of exclusive offers and opportunities. A $50 Gift Card is sent to your inbox the day you join. And we'll send over a 15% OFF coupon code you can use on one order, whenever you decide to make the call.
Free Leather Goods
Two Sided Military Duffle Bag ($649 value)

Large Buckled Organizer Bag ($69 value)

Medium Buckled Organizer Bag ($59 value)

Set of 4 Coasters ($29 value)

Keychain ($19 value)
Exclusive Access
Access to buy new designs before available to the public

Access to pre-order limited run colors, limited relaunch of old designs, members only designs, etc.

Access to Saddleback's Ultimate Leather Lovers Tour

And more
Gift Cards & Discounts
$50 Gift Card

15% OFF discount code on one order per year

Free Shipping of the free Members Duffle Bag, Organizer Bags, Coasters, and Keychain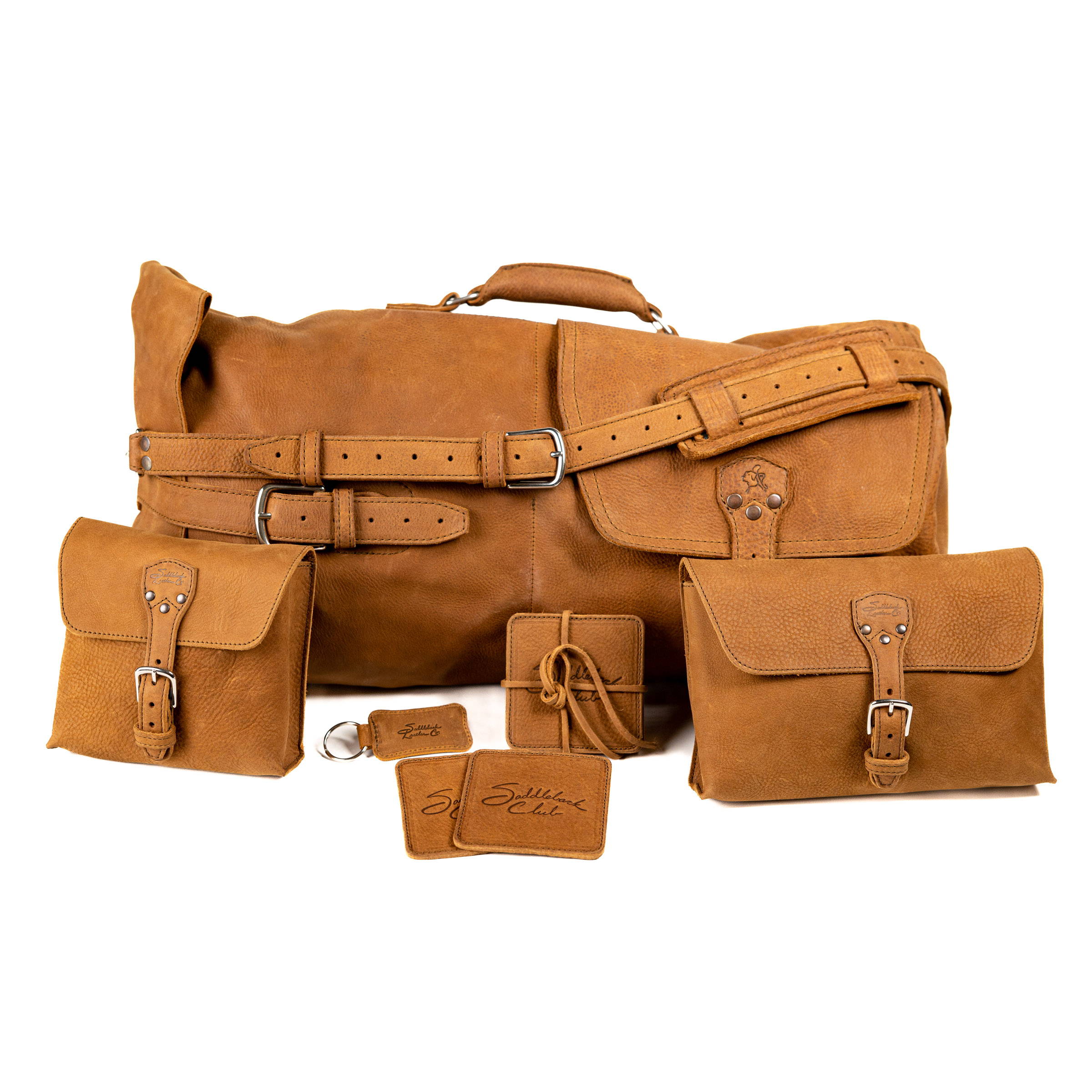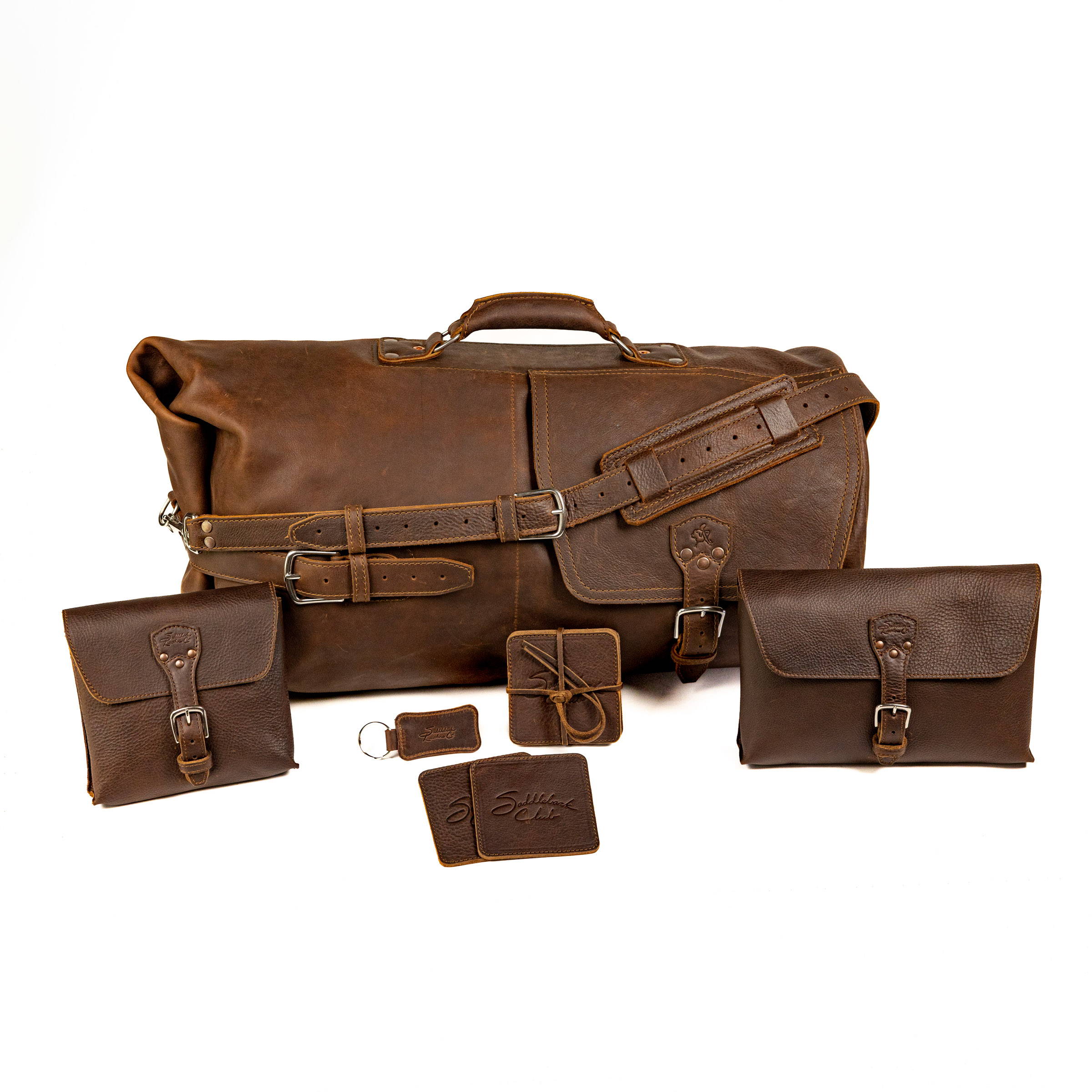 Some of the Two Sided Military Duffle Bags are arriving with beautiful natural markings or brands. If you're one of the lucky ones, you might receive one, but we cannot get these out to everyone, unfortunately. If natural markings is not your style please let customer service know or include it in the notes section on your order.
Why A Community Membership?
This Saddleback Club is phase one of our Saddleback Community and we see it being the coolest, most personal and interconnected community in the whole world. Our hope is that members will ultimately connect with each other and have more fun, meaning and success in their lives because they're a part of this smaller and tighter community. And we hope we'll be able to get to know you more personally, too.
Saddleback Leather developed into something special because I had my first bag made; and then made another and then another. We're going to do the same with this community. It'll develop into something special, but we have to start somewhere. The Saddleback Club is the "first bag", with more "bags" or simple and fun layers of the Community to come.
The way you get great at playing guitar is by playing guitar. The way you get great at public speaking is by public speaking. The way you get great at having a community is by having a community. And on our 20th Anniversary year, this seemed like a great time to start.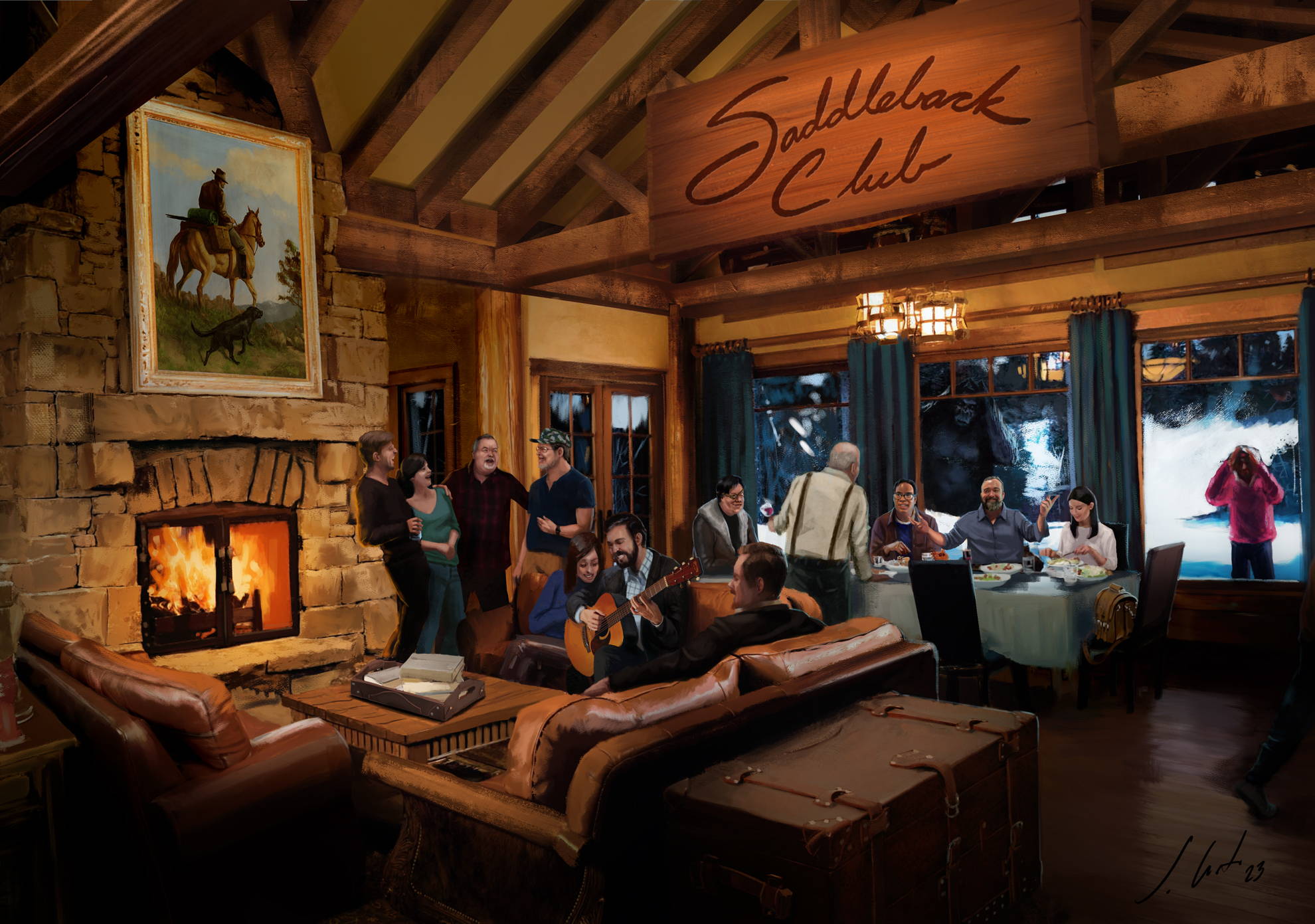 2023 Saddleback Club Free Leather Goods
When you become a member, we make and set aside a handful of Members Only designs that we will send you for free -- the leather and the shipping.


Two Sided Military Duffle - a 24" military style duffle bag that makes packing the coolest part of a road trip. We may regret giving this away.


Large & Medium Buckled Organizer Bags - tumbled leather Medium and Large Organizer Bags with buckles.


Saddleback Club Coasters - a set of 4 leather coasters stamped with Saddleback Club.


Saddleback Club Keychain - a keychain to remind you every time you grab your keys that we appreciate you.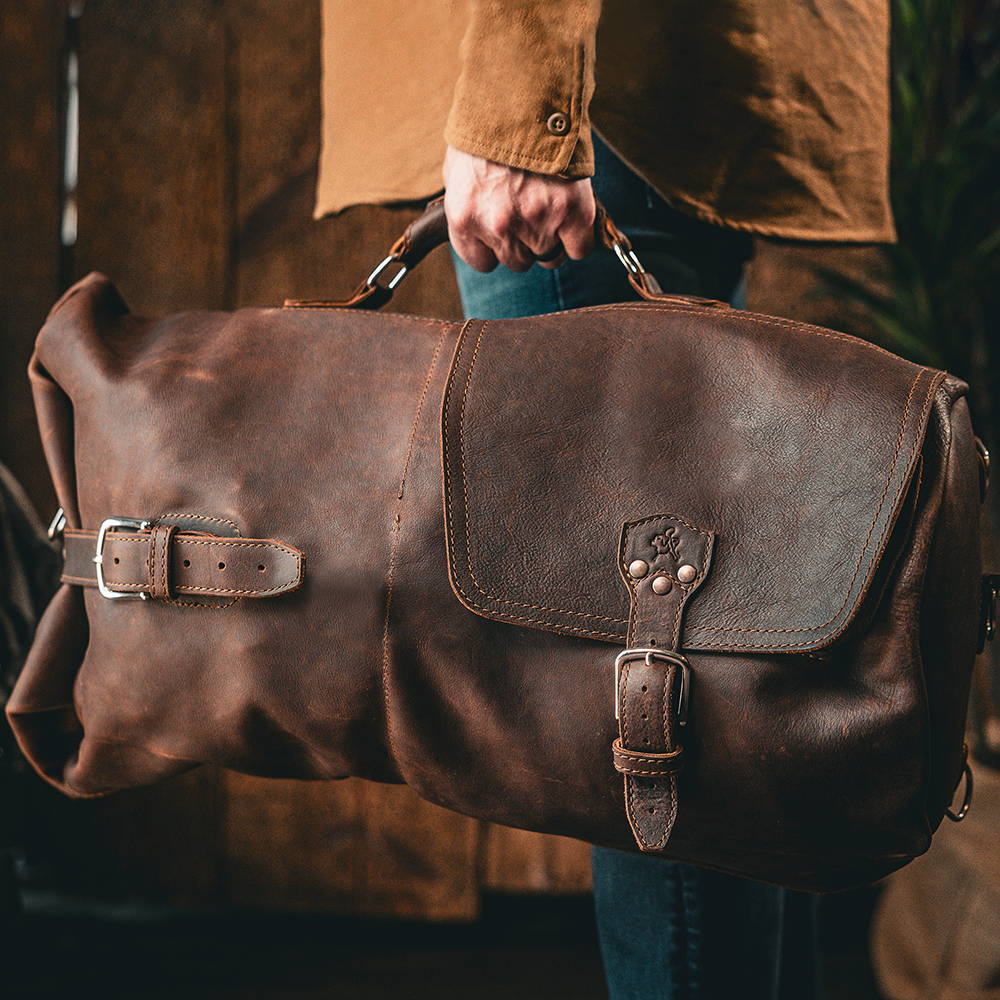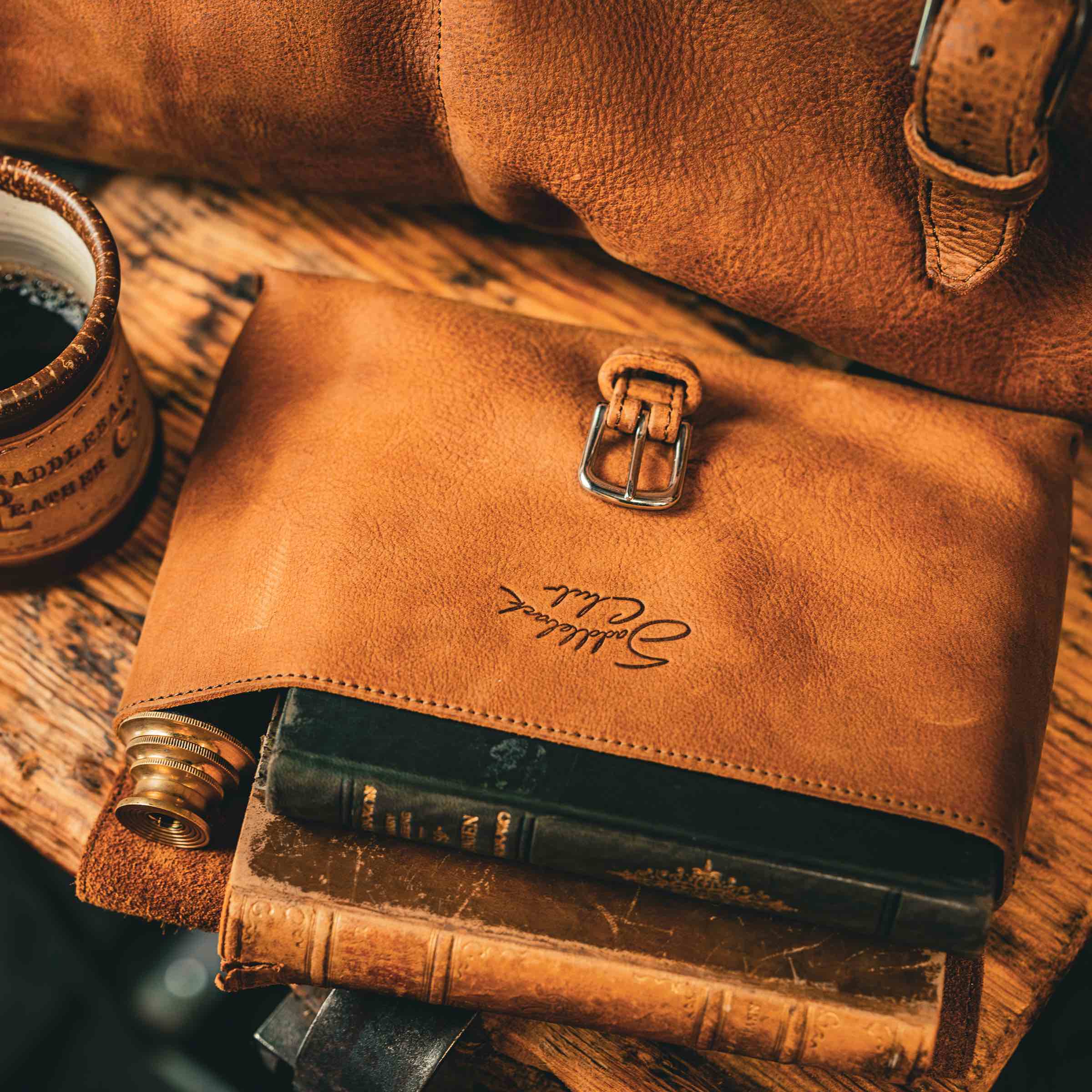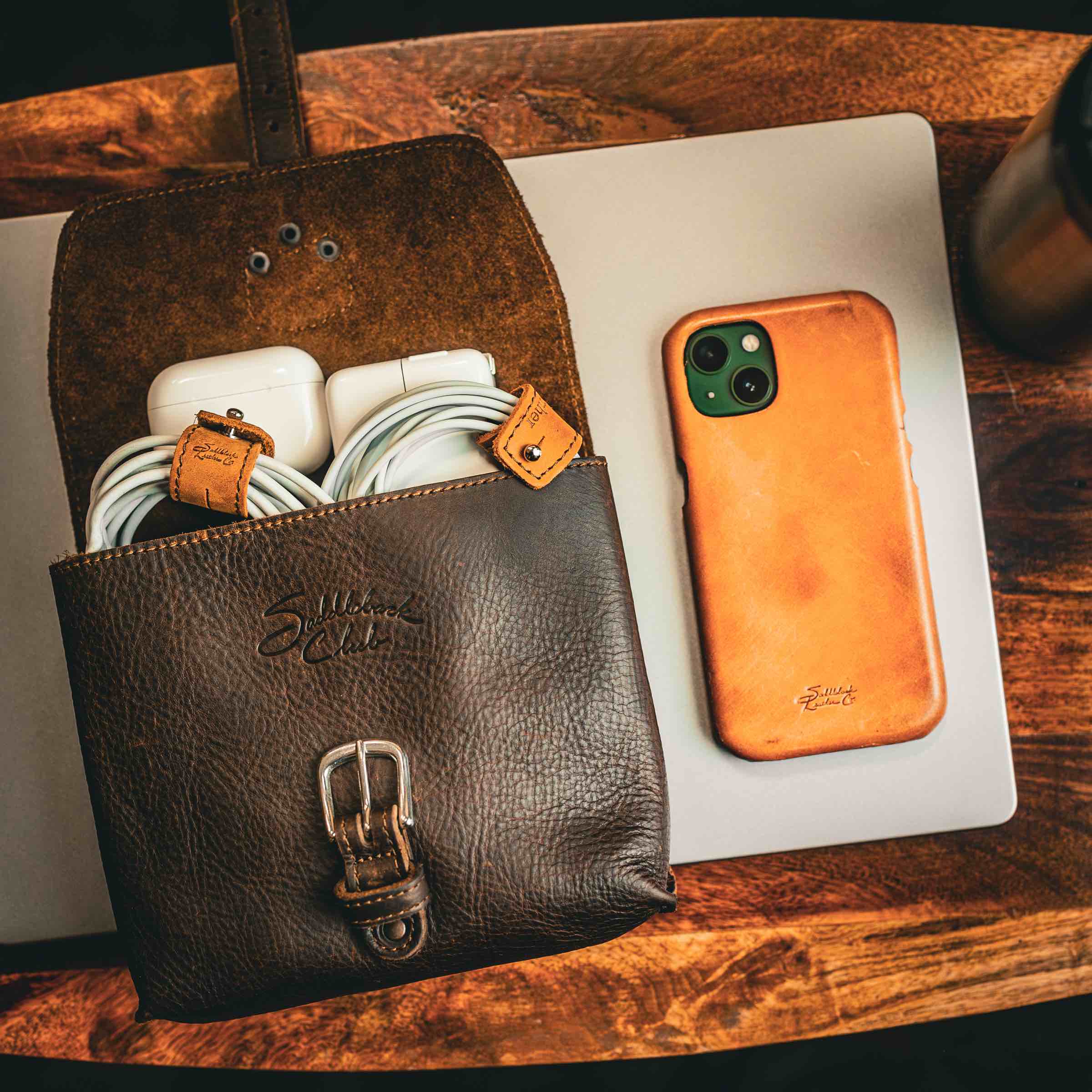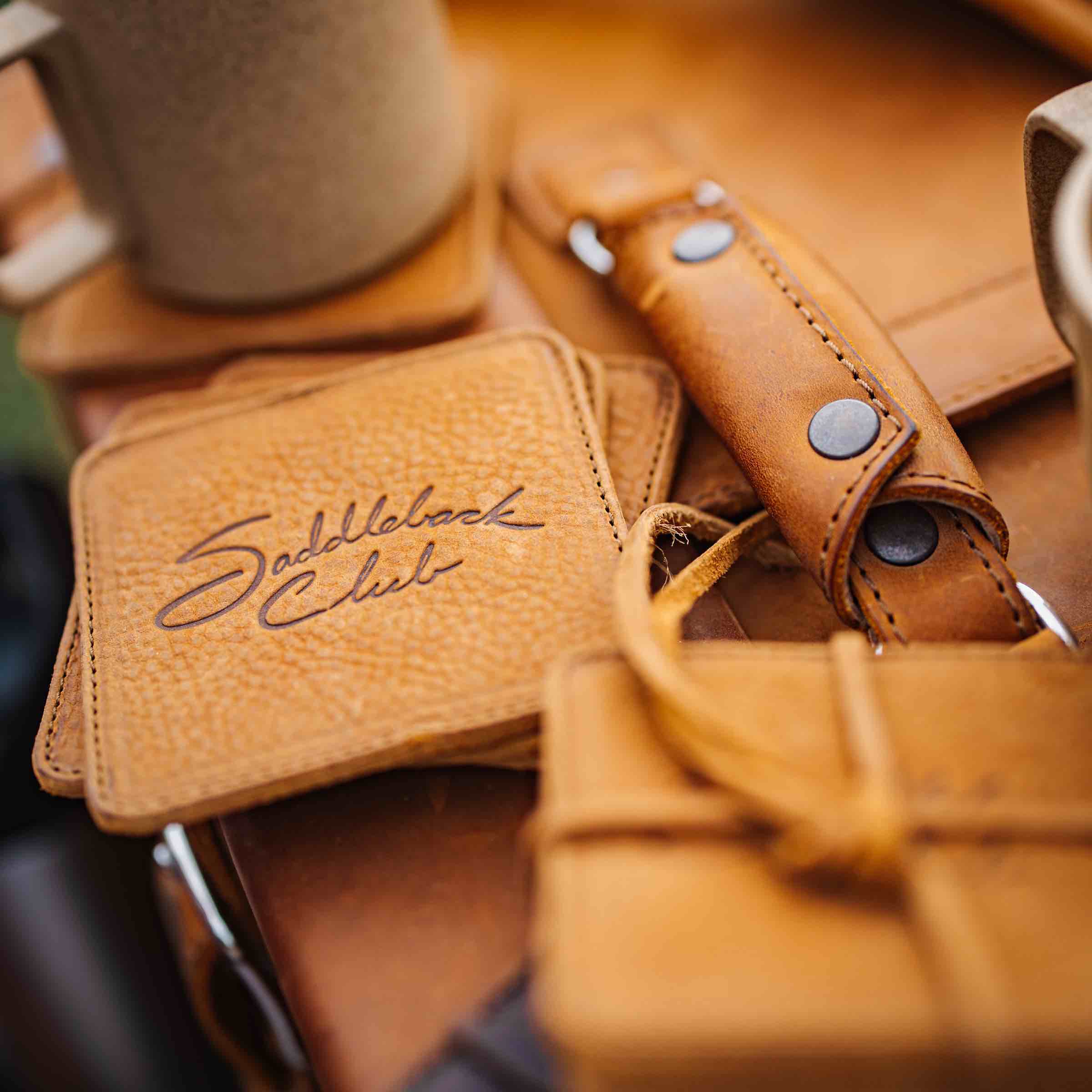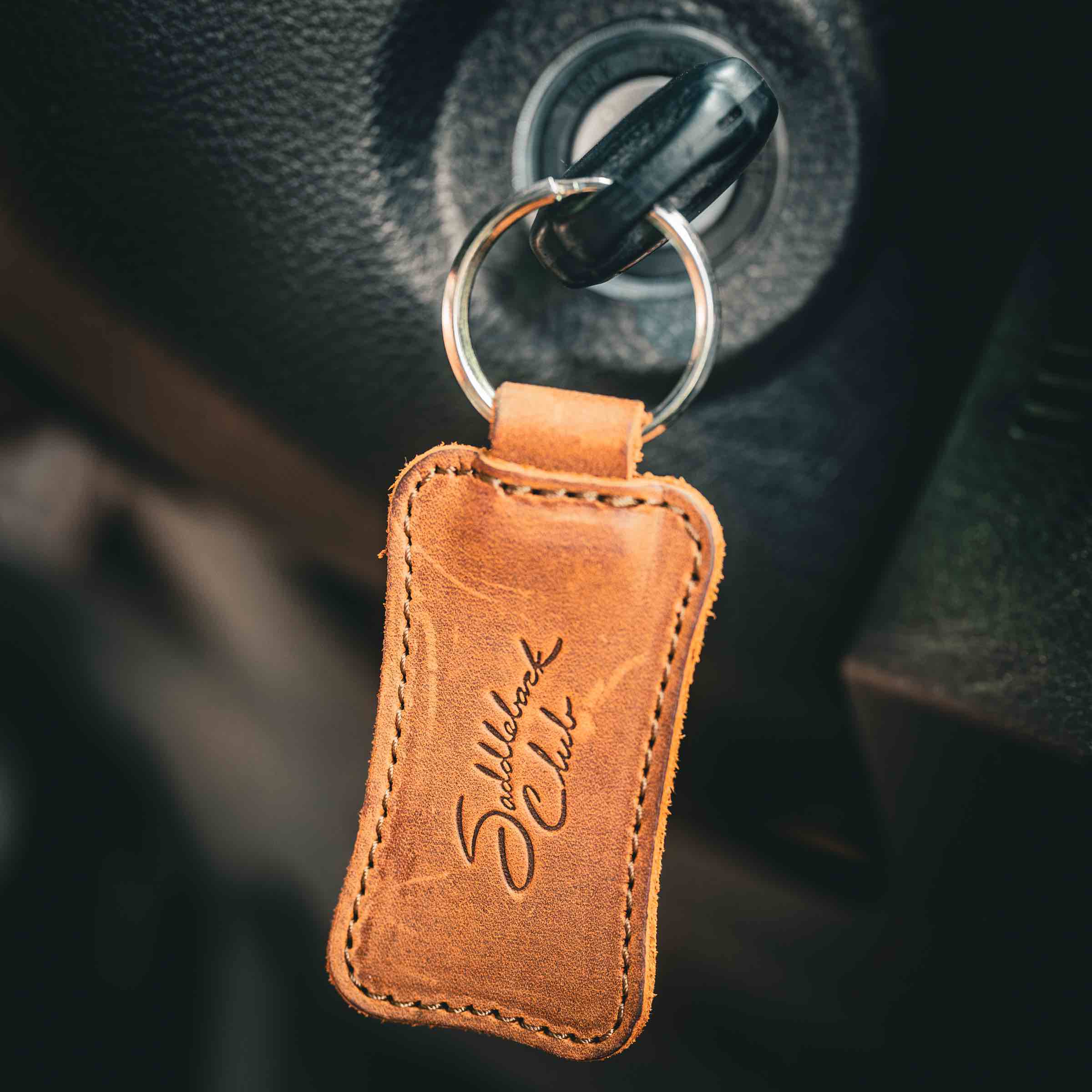 Exclusive Access, year round
During your membership you'll have access to a number of exclusive offers.
Access to buy all new designs before available to the public. You get first dibs on every single product launch.


Access to buy "Members Only" designs. You already have first dibs on all new designs, but some pieces here and there will only be available to Saddleback Club members.


Access to pre-order limited runs. Dusty Carbon and other limited colors and limited relaunches of old designs.


Access to exclusive live auctions. You'll get invitations for occasional auctions of rare designs. We can't do it often or rare becomes common.


Access to live webinars/Q&As with the Munsons.


Access to buy personal leather business cards like Dave's. We'll get the info you want on your cards (name, email address, phone number) and send you the best smelling business cards in the world.
Access to The Ultimate Leather/Saddleback Leather Tour in the safest part of Mexico
Tour the Saddleback Leather factory a.k.a. The Birthplace Of Your Bag

Tour one of the coolest and best tanneries in the world.

Tour Mexico's Crown Jewel City, Guanajuato, the coolest city and honeymoon destination on the North American continent

Get away and hang out with Dave and Suzette and a group of members, as you learn the backstory of the Saddleback Story in the World Heritage Site, Guanajuato.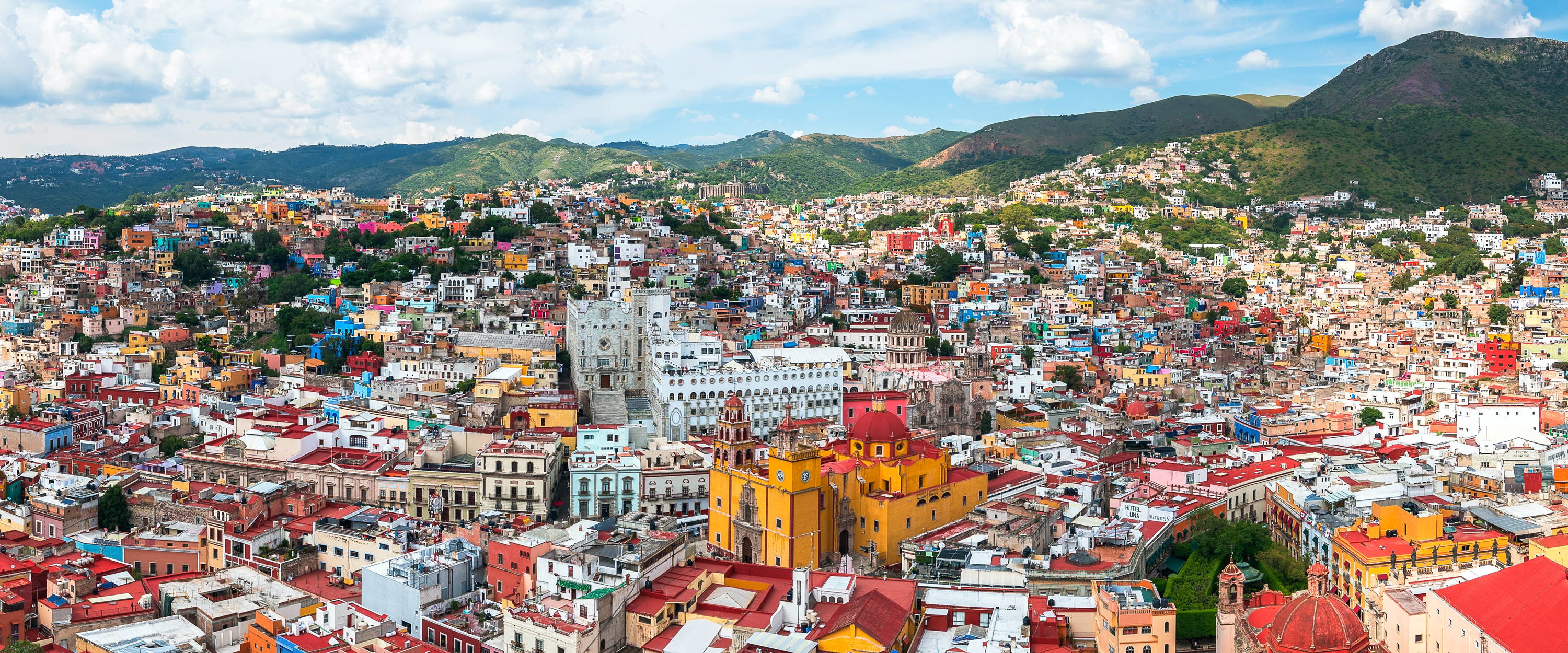 Gift Cards, Discounts, and Recognition
1. The day you join the Saddleback Club, we'll send a $50 Gift Card to your inbox.
2. We'll also send you a 15% OFF discount code that's good for one use on any order. Finally own the trunk or get friends and co-workers to do a group purchase together.

3. Members that join in 2023 will receive the Charter Member designation. Your name will be permanently burned on leather at the Saddleback Headquarters.
FAQ
Q: When will my free leather goods ship?
A: We don't make your designs until you order, so please allow 6-8 weeks.
Q: Does my membership auto-renew after one year?
A: No.
Q: What if I have a warranty issue on a free Saddleback Club design?
A: Contact us and we'll get it taken care of. It's covered under your 100 Year Warranty.
Q: Can I buy the membership as a gift for someone else?
A: Yes, just check the box "Buy for Someone" and enter their information before adding to your cart. (There must be an account in our system for the person you want to buy this for.)
Q: Can I use an existing Gift Card to buy the membership?
A: Yes - if you have a pre-existing gift card/certificate then it can be used as a form of payment. You cannot use a Gift Card that was obtained by buying the membership.
Q: Can I give my 15% code to a friend, family member, etc.
A: No, it's only valid with the purchaser's account.
Q: Can I use my military discount on the price of the membership?
A: No. No discounts can be used to buy a membership.
Q: Do I pay for shipping for my free membership products?
A: No, all free membership bundles ship for free anywhere in the world.
Q: How do I buy leather business cards like Dave's?
A: Contact Customer Service at ihaveaques[email protected] with the subject line BUSINESS CARDS.
Q: Can I return my membership?
A: No, there are no returns or cancellations on the Saddleback Club. Because we send you a 15% off discount code and $50 Gift Card when you sign up, we have to make all sales final. Your only regret will be not joining the club sooner.
Q: Will you ship internationally?
A: Yes, for free in 2023.
Q: Can I return the members only bag to exchange it for something else?
A: No.
Q: When will the Saddleback Leather Factory tour weekend be?
A: TBD... gotta nail down Dave and Suzette's schedule first.